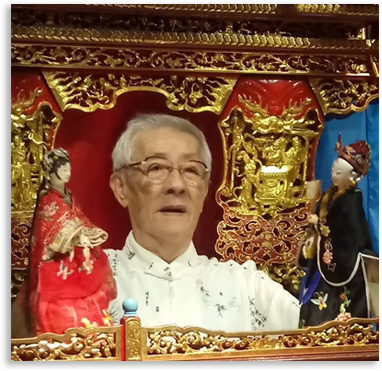 陳錫煌是台灣唯一榮獲文化部(2009,時文建會)指定為「重要傳統藝術布袋戲類保存者」,以及「古典布袋戲偶衣飾盔帽道具製作技術保存者」(2011)的布袋戲演師。
生在布袋戲世家,陳錫煌是受父親李天祿嚴格的偶戲訓練長大的。少時曾因躲避高壓嚴格訓練而離家,也因此陳錫煌發展出與父親不同的偶戲技法;成年後返鄉承襲父親的「亦宛然」系統,創立「新宛然」,在經營數十年後因故解散。79歲那年,他有感於這美麗的傳統藝術就快要消失,決定重出江湖,以自己的名字創立「陳錫
煌傳統掌中劇團」,透過進入校園演戲、教育等方式,希望能將布袋戲傳承下去。
陳錫煌一直都把偶當人看待,他從來不說「操偶」、「玩偶」,偶得用「請」的,就像請神一樣,每尊偶都有自己的靈魂,自然而然會做出
他的個性、動作和台詞來。他的徒弟曾說,只要有人肯學肯問,老師都毫不保留地傳授;陳錫煌也說自己是「傳藝未完成,誓言老不休」,只要他活著的一天,都仍在學習著。就像他守護傳統的同時,也不斷創新。
陳錫煌在布袋戲的製作和演繹上有許多創新,知名的作品有和大稻埕偶戲館共同演出《馬可波羅》(2006),讓布袋戲偶演出擁抱、接吻的「摩登劇碼」,或與世界各地的新銳藝術家合作傳統藝術新編劇目《重別》(2007)。他說「我把傳統一些不好的丟掉,再把一些好的東西添上去,這樣比較好看。」只要能讓更多人接觸、喜歡布袋戲,他都樂於嘗試。
在戲偶製作上,我們的國寶大師也有許多新創,他所研發的布袋戲偶精美、耐用,更好操作,不僅讓許多演師爭相收藏,更吸引海外人士遠從歐洲慕名而來拜師學藝。
Chen Hsi-Huang—A National Master Bringing Life and Innovation to Puppetry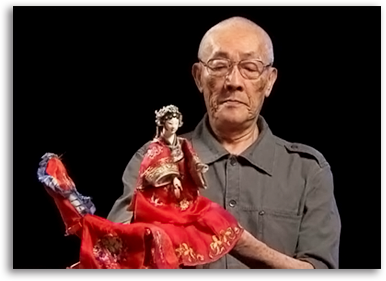 Chen Hsi-Huang is the only glove puppeteer in Taiwan to have been recognized by the Ministry of Culture as an important preserver of both traditional glove puppetry (2009) and classical glove puppet clothing and headwear props (2011).
Born into a puppetry family, from an early age Chen received strict training from his father Li Tian-Lu but as he got older, he ran away from home to escape the stressful training regime. This ultimately led him to develop uniquely different puppetry skills from his father. When he returned to his hometown, he inherited his father's Yi Wan Jan Puppet Theater and also established the New Wan Jan Puppet Theater, which continued for the next few decades.
At the age of seventy-nine, he became concerned that this elegant traditional art was disappearing so he decided to establish the Chen Hsi-Huang Traditional Puppet Troupe. Through performances in schools and educational projects, he hopes to pass Taiwanese puppetry on to future generations.
Chen has always treated puppets as real human beings. He never says "operating" or "playing" the puppets; they must be treated with respect, as "Gods" even. He believes each puppet has their soul and their own distinct personality, movements, and words. A disciple of his once observed that as long as one worked hard to learn, Chen would spare no efforts to teach him or her. Chen also said that he would never retire untill he has imparted all his knowledge and skills. He himself is a lifelong learner, continuously preserving and innovating this tradition.
Chen has innovated the production and performing of puppetry. He has staged several famous plays. For example, Marco Polo in 2006 was was a joint venture with the Taiyuan Asian Puppet Theatre Museum. The Second Goodbye in 2007 was a traditional story that involved newlyfound artistic talent from all over the world. Chen said, "I waived straggle parts and added some good stuff to make it more attractive." In order to get more people to experience the joys of puppetry, he is willing to try anything.
When it comes to the actual craft of puppet making, this nationally treasured master artist also has many innovations. He has developed exquisite and durable puppets that are easily to operate, which many puppeteers are eager to collect. His unique skills have attracted people from as far away as Europe to learn from this great master of Taiwanese puppetry.
陳錫煌掌中劇團
陳錫煌傳統掌中劇團成立於2009年,是創辦人陳錫煌繼1953年創立「新宛然」劇團和1984年創立「亦勵軒」工藝社後,出於想要保留並傳承傳統布袋戲技藝的初衷,而創立的劇團。
陳錫煌傳統掌中劇團除了陳錫煌老師領軍之外,成員還有林銘文、吳榮昌、黃武山老師等人組成;2011年進駐台北偶戲館後,除了演出,也會定期舉辦藝生徵選、開班授課。像是大師工作坊就囊括工藝製作、後場音樂、戲偶操演、演出道具等課程。
為了推廣布袋戲給年輕一代的觀眾,陳錫煌掌中劇團也積極和現代劇團合作,進行創新、實驗的布袋戲演出,並且多次走入校園。劇團歷年演出的劇碼眾多,叫座者如《年羹堯傳奇》、 《虹霓關》、《鬧天宮》等。
演出劇目【巧遇姻緣】
《巧遇姻緣》是一個英雄救美、天賜良緣的簡單故事,卻包含了布袋戲中經典「三小戲」,即小生、小旦、小丑的聯合演出。陳錫煌將原本較長的故事濃縮取其精華,並為了外國觀眾也能看懂,而將故事修改為沒有對白、只有樂音的15分鐘默劇版本。觀眾在劇中,可看到布袋戲藝師如何熟練用手掌演出戲偶精細的動作,甚至還有耍雜技等高難度的掌上特技,一次看完布袋戲中最叫人讚嘆的精萃演出。
Chen Hsi-Huang
Traditional Puppet Troupe
Chen Hsi-Huang Traditional Puppet Troupe was founded in 2009. The founder, Chen Hsi-Huang, who has established Hsin-Wan-Jan Puppet Theatre Troupe in 1953 and I-Li-Hsuan Art Institute in 1984, wanted to preserve and pass on traditional puppetry skills by setting up a puppet troupe.
In addition to Chen himself, the teachers at Chen Hsi-Huang Traditional Puppet Troupe also include Wu Rong-Chang, Huang Wu-Shan and Lin Ming-Wen. In 2011, Chen Hsi-Huang became the resident puppet master at Puppetry Art Center of Taipei, giving performances while also conducting student recruitment and puppetry courses. For example, the master workshop includes courses on craft production, background music production, puppet operation, props production, etc.
In order to promote puppetry to the younger generations, Chen Hsi-Huang Traditional Puppet Troupe actively collaborates with other modern troupes to present innovative and experimental puppetry plays, performing often in school campuses. Throughout these years, it has staged numerous plays; some popular ones include The Legend of Nian Geng-Yao, The Neon Pass, and Uproar in heaven.
Musicals: A Chance Encounter Leads to Marriage
Though A Chance Encounter Leads to Marriage is a simple story about how a hero came to a beauty's rescue which leads to the two getting married, it actually has three classic roles in puppetry: little shen (young male character), little dan (young female character), and little chou (comic character). Chen Hsi-Huang revised the long story and changed it into a 15-minute mime version with only music but no dialogue so that foreigners can understand the story. In this play, the audience can see how puppeteers create exquisite, elegant movements and even do challenging juggling with puppets in their hands. A Chance Encounter Leads to Marriage surely presents the audience with all the amazing essences of puppetry.